Sometimes I feel like this guy: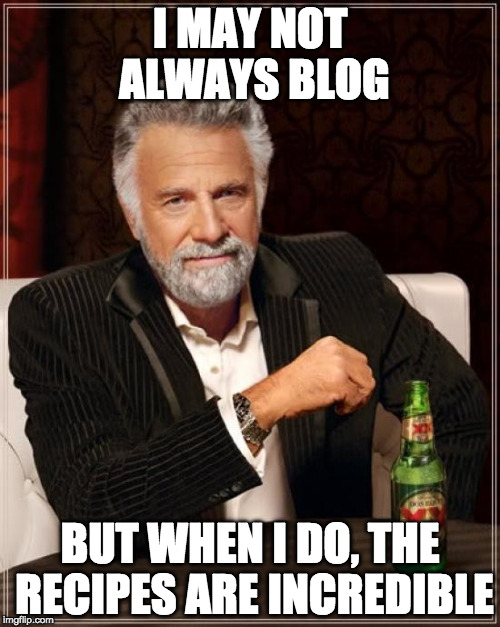 I really haven't been doing a good job as a blogger lately and I'm sorry for that. But like the meme promises, if you DO see a post from me it means I've made something so delicious I simply have to dust off my computer and type up a post.
Take this meal for instance. Today I'm sharing the side dish -
Pasta with Garlic Butter Caper Sauce
. Tomorrow you get the real star - Eggplant, Prosciutto and Mozzarella Stacks. But don't think for one second that the pasta isn't delicious in its own right.
I was a little sad that I only made 6oz of pasta because I could have eaten a whole pound myself. It's light yet flavorful and so, so simple. I simplified it even further by cooking everything in one pot. And I left out the wine because all I had was Riesling. We didn't miss it so I probably won't bother with it next time. And there will most certainly be a next time since this is now Steve's favorite meal of all time.
And hey, don't forget to come back tomorrow for those delicious eggplant stacks.
Pasta with Garlic Butter Caper Sauce
As seen on Iowa Girls Eats
6oz spaghetti
2 tablespoons butter, divided
4 garlic cloves, minced
1 1/4 cup chicken broth
2 tablespoons capers, rinsed
juice of 1 small lemon
Cook the spaghetti according to package directions. Drain well and set aside.
In the now-empty pot, melt 1 tablespoon of the butter over medium-high heat. Add the garlic and saute until just starting to brown. Add the chicken broth, lemon juice, and capers then turn heat up to high. Simmer until the sauce is reduced by half. Add the remaining 1 tablespoon butter. Taste and add salt, only if necessary.
Turn off the heat and add the cooked pasta to the pot. Toss to combine, then let sit for 3-4 minutes so the pasta can absorb some of the sauce.